Regular price
Sale price
$99.00 USD
Unit price
per
Sale
Sold out
Share
If you've been around here for longer than a moment, I'm sure you understand how deeply I believe in things like…

Isn't every one of these things magic? I think so.
Lately, I have had a burst of creativity happening in my workshop and as I looked around at all the beautiful newness earlier today, I suddenly became overwhelmed. My time to work in my workshop has been so limited recently and I haven't been able to share all the beautiful goodness I've been creating with all of you. It's just sitting here, patiently waiting for its debut into the world.
As my mind began spiraling, God swiftly entered and said, "Let me take it from here. Your community needs magic. They need to see how I am working through you. They need to feel the connections unfold organically, without more decisions, without more pressure, without more to-do, they need

 

you to show them how easy it can be. They need you to show them how I am

 

already sending them everything they need."
Over the next few moments, God gave me a download of what I am supposed to be releasing right now in this season and it is beautiful.
It is a Mystery Mailer filled to the brim with

 

magic and

 

meaning

 

designed to help you trust a little deeper. Inside you will find the following…
Ø The Magic and Meaning Story Card Pack, a devotional story and frameable prints with the words God laid on my heart today and a few messages to remind you how to trust again.
Ø 3 surprise AMEN everyday jewelry pieces, you will get a combination of earrings, necklaces, rings, or window charms each with a different prayer, the perfect little gift-able item for those on your heart.
Ø 2 surprise Inspired devotional jewelry pieces, each piece has the devotional story + frameable prints which deeply resonate with your own story.
Ø 1 surprise Signature piece of jewelry, created from my original artwork my Signature pieces are one of a kind and the most special of them all. Through prayer, we're going to trust that God is leading me to send you the piece your heart needs.
I know how difficult it is to let go and let God take over. I know how hard it is to fully trust when it feels as if you have been let down by God in the past. I know how hard it is to turn your worries and cares over to Him, when you cannot even find the words.
Let this be a sign to you that God is fighting his way into your heart. Whether you get this Magic & Meaning Mystery Mailing, or not, keep your eyes open for the ways God is reaching out to you, for I promise He is. He has a message to tell you right now and He is knocking on the door of your heart, waiting for you to let Him in.
Each Magic & Meaning Mystery Mailing is $99 and is filled with over $275 worth of goodies. Every mystery mailing is different and prayed over prior to shipping with the intention that God will lead me to fill it with the messages your heart needs right now.

View full details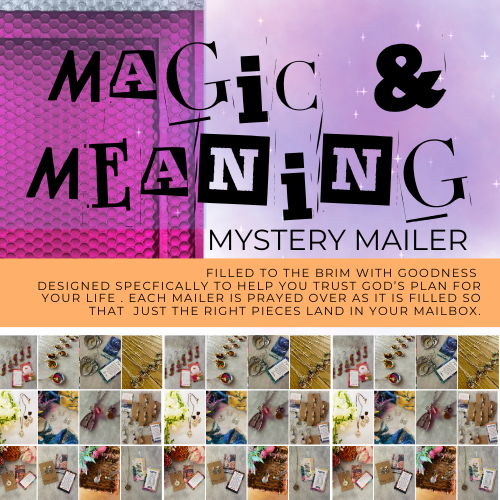 Shipping

Product will typically ship within 5 business days unless otherwise stated on the product description or at checkout for made-to-order products and pre-orders. If you have any questions about our shipping policies, contact us at hello@purposegrit.com

Returns

All sales final. However, it is our mission to ensure we deliver high quality products to our customers. If you have any issues or questions about your order contact us at hello@purposegrit.com.