Regular price
Sale price
$99.00 USD
Unit price
per
Sale
Sold out
Share
"Here" is a jhp, Prayer Art original Signature collection. It is a prayer about presence.
The jhp, Signature pieces are the most special of them all, for each is birthed from a segment of the original artwork. The artwork is carefully cut apart into 20 pieces, hand-signed, and then resin sealed in a bezel. The back of each bezel is hand-stamped with roman numerals indicating its place in the collection (#1-20). This mixed-metal necklace design is on a 26" silver plated satellite chain with a lobster clasp, and finished off with the jhp, Prayer Art makers' tag.
Every piece comes in a gift box with the certificate of authenticity, proving it is an original from this collection. Additionally, every necklace comes with the complete devotional which shares the artwork story, 5x7 Prayer Art print, 5x7 scripture print, and a digital self-paced journaling retreat.
There are only 20 pieces in this exclusive jhp, Signature collection.
Almost 
all of the findings are 
casted, formed and plated in the United States with imported metals from teams of generational craftsmen. The quality of the jhp Signature and Inspired line is elevated from past prayer art pieces.
___________________________
Often, it is easy to slip into the ache of yearning for yesterday or the eager anticipation of tomorrow, while overlooking the goodness that exists today.
 One day, when my mind was filled with all the "should-have-beens," my sister, who lives in heaven, spoke one simple word into my heart... "here."
 My aching soul replied, "Yes here. You should be here," as resentfulness washed over my body. My sister gently came back and said "No….. here" and laid this prayer and painting on my heart.
 Through a flooded rush of tears, emotions, and memories, I finally understood. While I was aching for yesterday, and reaching for tomorrow, she was pleading with me to just live here. She was begging me to fully enjoy this moment of my life, this fleeting season. She was reminding me to see the beauty surrounding me now and to intentionally live every blessed moment.
 If you too are in a season of shifting between the past and the future, take this nudge as an invitation embrace this season fully. Release the anxiousness, the fear, and the should-have-beens, to truly grasp the goodness surrounding you now.
 Live here.
____________________
This artwork, titled "Jessy" was created by Jessy Paulson, Prayer Artist using acrylic paint.  The artwork is sealed with resin inside the pendant. Every piece is hand-stamped on the back with roman numerals indicating the number of the piece in this exclusive collection of 20 pieces.
View full details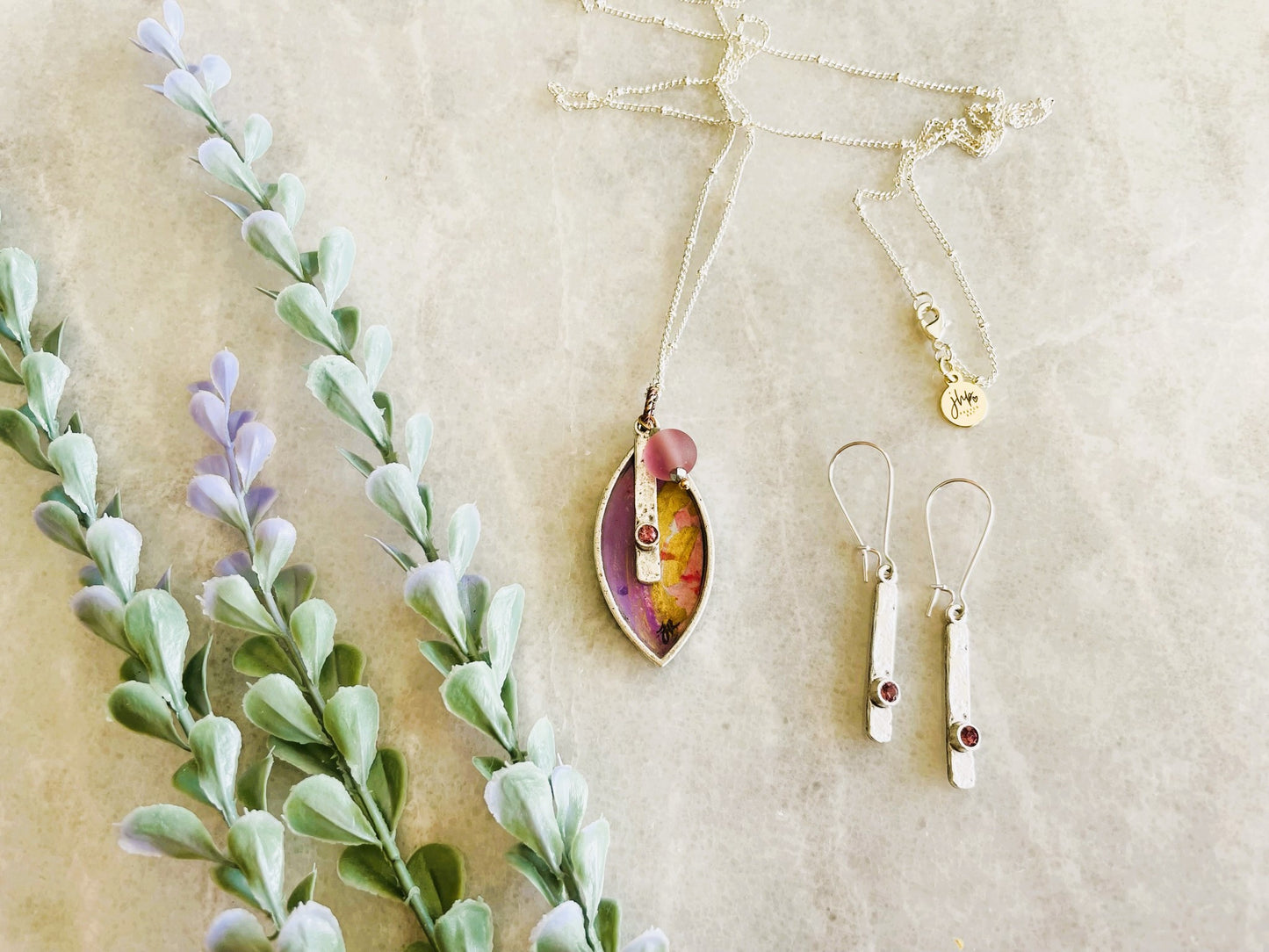 Shipping

Product will typically ship within 5 business days unless otherwise stated on the product description or at checkout for made-to-order products and pre-orders. If you have any questions about our shipping policies, contact us at hello@purposegrit.com

Returns

All sales final. However, it is our mission to ensure we deliver high quality products to our customers. If you have any issues or questions about your order contact us at hello@purposegrit.com.