Regular price
$797.00 USD
Regular price
$997.00 USD
Sale price
$797.00 USD
Unit price
per
Sale
Sold out
Share
Boldly Built by Purpose + Grit is a 12-module digital course, designed for the beginner who is looking for the next right step to bring the big dream that God placed on their heart to life.
This course launches in late December 2023. This product listing is for the complete course when it launches at a special early-bird signup price!

When you purchase this listing, you will receive a weekly encouragement email each Sunday to give you additional content and help you lay the groundwork before the course starts in late December 2023.

Once the course launches, you will have access for one year and will be able to work at your own pace and revisit each lesson if desired. Plus! You will gain access to special live group workshops and contributor opportunities within Gritty Faith!
Inside the course you will find direction to help you build the foundation you need to bring that big God-given vision to life including...
 Clarifying your vision. 
Defining your big and small goals.
Discovering how to document and sculpt your story. 
Finding your audience.
Crafting your product offering.
Structuring the pillars of how you will serve.
Building a community.

Marketing.
Funding your mission.
Carving out time to bring your dream to life.
Serving well.
Determining the next right step.
Want to learn more? Here's the background of how this course came to life...
Want to know what lights me up?
Along with creating, one of my favorite things to do is to chat about dreams. I love it when people share their big goals, and the visions that God has placed on their hearts with me.

It's the best feeling when I see the spark in their eyes about their latest idea. It's the most vulnerable real thing when I watch them uncover their latest project, knowing I am the first person they've trusted with it. It is absolutely unbelievable to watch their dream unfold into something real and tangible.
Brain dumping about business strategies, building authentic connections, cool automation tools, entrepreneurship hacks, marketing efforts, and big goals is my love language. I will never tire of hearing others pour out their big heartfelt dreams and watching those visions come to life.
There is a saying that goes, "Imagine if we measured success by the amount of safety that people felt in our presence." (Jonathan Louis Dent)

I love that so much. And, not to toot my own horn, but I've been told a time or two that this is my sweet spot. The moments when I feel most proud of my work and most comfortable in my own skin are the moments in which new acquaintances tell me, "I know we just met, but my story feels safe with you."

What a gift that is. This is who I am at my best.

That is why over the last few months, I have carved out time to build my very first course offering, Boldly Built with Purpose + Grit.

Since 2019, I have held space for your stories within the pages of Gritty Faith, now through this course, I'm going to hold space for your dreams and help you find the next right step to bring them to life.

This course combines everything I have learned in the school of hard-knocks while building by business from the ground up. Years ago, God placed a vision in my heart to help people make meaningful connections through art, words, and conversation. I didn't know what that would look like. I didn't know what products I would create, I didn't yet know what my voice would sound like in this space. I didn't have a recipe for how to build this business. I didn't have a mentor to give me a roadmap. I simply didn't know much.  However, the one thing I did know was that I was filled with purpose and grit. I knew with unwavering certainty that this dream was for me, and I knew it was up to me to bring it to life.

As a founder and small business owner, I've experienced firsthand the lack of resources for those of us who are trying to figure it all out on our own. The amount of information out there is overwhelming and when you begin diving into it – very underwhelming. It is hard to find quality content that is actually helpful.

That's exactly why God placed this course on my heart to create. This is the roadmap I was looking for when I first began. This course is for the people who are starting from scratch with just a big dream on their heart and no idea where to start.

This is for the ones whose schedule is already full, but that dream just keeps on knocking and they know it is up to them to figure out how to make time to build it. In this course, I will show you how I built the bulk of my business by carving out just 15 minutes a day.
This is for the ones with the small bank accounts who are not sure where the money is coming from to fund this dream but know that there is so much more possibility for their life if they could only scrape up the cash. In this course, I will show you how you can start with the bare essentials and begin earning steady money to feed your dream (and your family too).
This is for the ones who feel the calling from God but are questioning their worth because when they look out into the world, it seems as if everything has already been done. In this course, I'll prove to you that there is room for you too. The world needs your gifts.
This is for the ones who are boot-strapping it on their own, not yet able to hire a team. In this course, I'll show you exactly what systems I have put into place to leverage the power of automation to help me with everything from my website, to my social media, and so much more.
This is for the ones who are afraid of what it will take to bring this dream alive and just aren't sure if they are… insert-the-fear-of-the-day-here (smart enough, organized enough, tech-savvy enough, worthy…). In this course, I will be your biggest cheerleader and show you that yes you are. God wouldn't have placed this dream in your heart if you didn't have what it takes.
For the one who feels alone in their dream, who maybe is already down the path a ways, but is now stuck at a crossroads, this is for you too. In this course, you can walk side-by-side with me while I give you an inside peek of all the things I've tried (and failed in) and all the things I've tried (and succeeded in!). I'm an open book and I've spent hours upon hours gaining hard-won knowledge and experience that I am willing to share to help you find the next right step for your dream.
There are times when it is an amazing gift to gain face time with a mega-successful business owner.
Yet, in my experience it is even more valuable to gain insight from a peer who is just a little further ahead. It can only be described as magic when you lock eyes with someone who intimately knows the struggles you face because they too traveled through those trenches.
It is an immense gift to learn from someone who believes in your dreams as deeply as you do, someone who deeply understands the knocking on your heart.
It is unreal to have the support of another woman who is praying for the birth of your business, and who is helping you find answers to the problems you face as you grow.
I am that person, and I am so excited to open up the doors of this course to help you find your next right step. I cannot wait to hear about your dream. I promise, it'll be safe here. 
View full details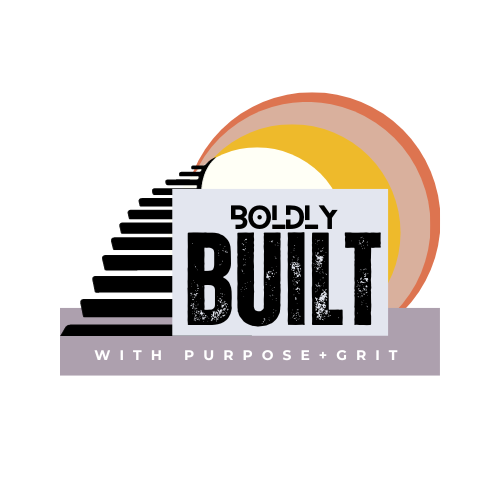 Shipping

Product will typically ship within 5 business days unless otherwise stated on the product description or at checkout for made-to-order products and pre-orders. If you have any questions about our shipping policies, contact us at hello@purposegrit.com

Returns

All sales final. However, it is our mission to ensure we deliver high quality products to our customers. If you have any issues or questions about your order contact us at hello@purposegrit.com.